Stores
·
Copenhagen Store
Part-Time Sales Assistant
Har du lyst til at få erfaring med salg og service og har du en naturlig interesse for mode? Vores fantastiske kollegaer i København render hurtigere end nogensinde før med deres nylige placering i Købmagergade. Der er derfor lige nu en unik mulighed for dig, der har lyst til at blive en del af et butiksteam, med et højt ambitionsniveau, som sætter gæsternes oplevelse i første række.
Vi er på udkig efter dig, der søger et job ved siden af dit studie el.lign. og ønsker at arbejde omkring 10-15 timer ugentligt med timer i både hverdag og weekend. Vi tilpasser naturligvis vagtplanen i forhold til din uddannelse.

Jobbet som Part Timer
Du skal være med til at give vores gæster en enestående oplevelse i butikken og have en passion for salg og god kundeservice. Du vil blive oplært i vores unikke butikskoncept, så du kan bidrage til, at gæsterne får den bedste oplevelse - hver gang.

Dine primære arbejdsopgaver er:
Salg og kundeservice
Vejledning om vores produktsortiment
Deltagelse i butiksevents
Oprydning og optælling på lager og medvirke til, at butikken fremstår trimmet og klar
Vareopfyldning


Jobbet er en deltidsstilling, og din arbejdsplads er i vores butik på Købmagergade centralt i København. Det er en fordel, hvis du kan starte hurtigst muligt.

Hvem er du?
Vi har rigtig god erfaring med deltidsmedarbejdere, og vi ser dem som vigtige spillere på vores hold. Som Part Timer bliver du en vigtig ambassadør for SHAPING NEW TOMORROW. 

Vi forestiller os, at du:
Er nem at omgås og forstår at skabe gode relationer til gæsterne og god stemning blandt dine kolleger
Kan arbejde selvstændigt og er servicemindet
Er modebevidst og udadvendt samt har gåpåmod


Har du tidligere erfaring med branchen, er det en fordel, men ikke et krav. Udover de daglige opgaver forventes det, at du kan træde til i ekstra travle perioder, hvor der virkelig er fart på og behov for, at alle hjælper til. Du er den, der er med til at holde humøret højt i teamet med henblik på, at alle gæster får en god oplevelse med fra butikken.


Hvem er vi
SHAPING NEW TOMORROW har udviklet sig fra at være en startup-virksomhed med 10 ansatte til en hurtigt voksende scale-up virksomhed med mere end 200 dedikerede 'Shapers'. Du bliver en del af et passioneret team, der hver dag jagter nye drømme og udfordrer status quo. Vi har et stærkt fællesskab og en helt særlig medarbejderkultur, hvor der er plads til frihed under ansvar og fokus på personlig udvikling. Vi er fuld af ideer, løsningsorienterede, økonomisk bevidste og fokuserede på at drive en sund forretning.

Vi tror på mennesker og elsker talenter. Vores mål er, at de ansatte har et sundt og sjovt arbejdsliv, fordi vi prioriterer arbejdsmiljø og velvære. Det er vigtigt, at du trives og glæder dig til at komme på arbejde – hver dag.

Ansøgningsfrist
Vi vil løbende indkalde til samtaler og tillader os at lukke stillingen inden ansøgningsfristen udløber, hvis vi finder den rette. Derfor er det vigtigt, at du sender din ansøgning og CV til os hurtigst muligt.
Har du spørgsmål til stillingen, er du velkommen til at kontakte HR Operations & Talent Acquisition Specialist Mette Bang Lassesen på +45 51 50 38 63.

Læs mere om os her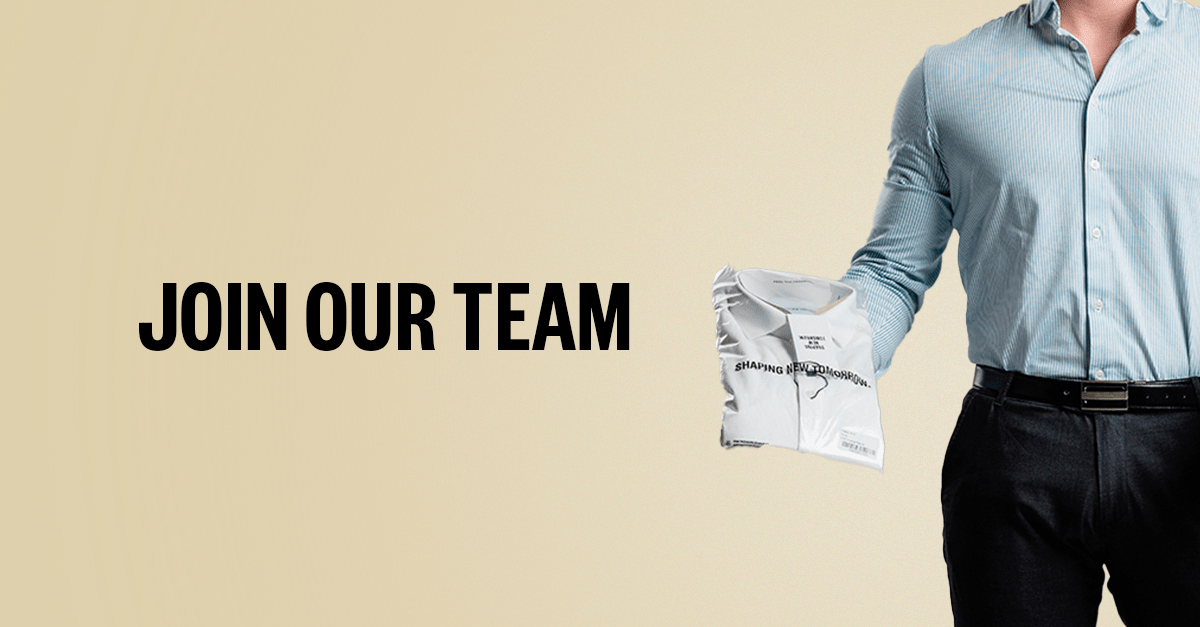 Department

Role

Part time Sales Assistant

Locations

Employment type

Part-time
About SHAPING NEW TOMORROW
The story of SHAPING NEW TOMORROW started in northern Denmark in 2015. Three childhood friends set out to change the way we think of traditional menswear since comfort and style were rarely united, and it became the breeding ground of ideas for building an international clothing brand.
Stores
·
Copenhagen Store
Part-Time Sales Assistant
Loading application form
Already working at SHAPING NEW TOMORROW?
Let's recruit together and find your next colleague.